Lace wigs have become a common accessory to most women around the globe. Lace wigs come in different sizes and types and can be used for one reason or the other.
These accessories require adhesives to help them hold comfortably to the scalp without coming off. Choosing the right adhesive can make all the difference in the appearance of your wig and its longevity on your head.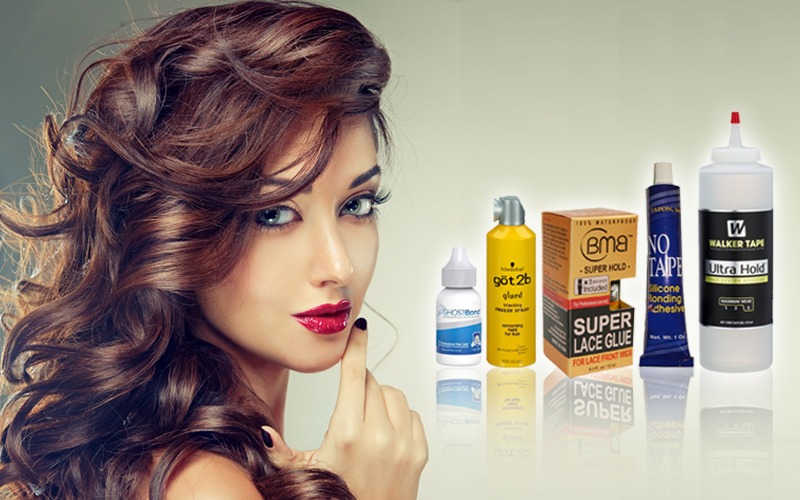 Different glues bonds differently depending on the type of scalp. Here we look at our top three picks of the best lace wig glue for oily skin. These products will resist the grease on your skin and scalp, allowing you to engage in your favourite activity with no worries. Read through and learn more.
See also:
Ghost Bond XL Lace Wig Glue
This is a highly effective product that forms an invisible bond between the scalp and the hairline to create a natural appearance. It helps your lace wig to sit comfortably on your scalp and reduce its movement.
The glue protects your scalp from excessive moisture loss and is suitable for use in both lace and poly replacement hair systems. It works to disguise the hairline for a more natural look. Ghost bond is specially formulated for oily scalps and individuals living in high moisture and humid areas.
You can go about your daily routines peacefully as you are assured that your lace or toupee will not fall off or move uncomfortably. Furthermore, this glue is waterproof and oil resistant, which further enhances its convenience.
Pros
Provides an invisible bonding system for an authentic natural look
Holds your lace wig or hairpiece in position
It is water and oil resistant
Can be removed easily using a shampoo
Does not contain harsh ingredients that can harm the skin
Ideal for people with sensitive and oily scalps and skins
Cons
You will need to use a glue tape to supplement this glue
Lace Front Wig Glue | Waterproof Adhesive
This is another dependable glue that creates a solid bond between your scalp and your lace front wig. It is ideal for toupees and wigs, and its waterproof property allows it to hold through sweat, humidity and an oily scalp.
This glue comes with a built-in applicator that makes it easy to apply on your hair. It can work alone, or you can combine with a tape. This glue can be used for daily hair system; it dries quite quickly and can remain intact for up to two weeks depending on your lace and your level of activity.
Pros
Gives a natural appearance to your lace wig or hairpiece
Makes your wig easy to maintain
Reduces damage to your natural hair
Specially designed for oily scalp but work with all scalp types as well
Budget-friendly
Cons
It has a strong smell which is a turn off to most users
Did not hold well for some users
Esha Lace Wig Adhesive Glue (Strong Hold) + Adhesive Remover Set
If you have been wondering which is the best lace wig for oily skin then worry no more; Esha lace wig adhesive glue is a top-quality product that is suitable for all skin types, especially the oily skin. The glue combines different ingredients that are safe for your skin. Besides, the adhesive is water and oil resistant which means that you can comfortably wear your wig knowing that the humid and oil on your scalp have no power over it.
The adhesive glue provides a secure hold and comes with a remover that will ensure no damage to your natural hair. Esha lace wig adhesive glue is super strong, and any wig enthusiasts will fall in love with it as it provides a sturdy yet comfortable fit for your wig or hairpiece. If you want to achieve a more natural hairline with your wig, then this is the glue to consider. It will secure your wig in a fraction of time plus it is free of any irritants.
Pros
The glue comes with a remover that eliminates the hassle of shopping for an independent wig remover
Formulated using clinically tested ingredients
Can withstand any form of humidity and an oily scalp
It holds the wig through any kind of activity
The remover can remove any type of hair adhesives
The remover rinses off easily with water
Cons
A user complained of receiving a glue that had dried out and was therefore impossible to use
It did not work for some users
Conclusion
In the past, the use of lace wigs was reserved among Hollywood actors and other celebrities, but times have since changed, making men and women around the world to embrace their convenience. However, lace wigs require some glue to keep them comfortable on the head.
They are many factors that you need to consider before choosing a lace wig glue. For example, you should be able to determine the amount of time you plan to have your wig on and also the type of your scalp. The above-reviewed products represent the best lace wigs for oily skin, they are humid and oil resistant, which means that the oil on your scalp will not affect them at all. Read through and pick one that fits your unique needs.
| # | Preview | Product | Rating | |
| --- | --- | --- | --- | --- |
| 1 | | BeYouTiful Styles The Collection | | CHECK LAST PRICE |
| 2 | | TruSkin Vitamin C Serum for Face, Anti Aging Serum with Hyaluronic Acid, Vitamin E, Organic Aloe... | 28,728 Reviews | CHECK LAST PRICE |
| 3 | | Paulas Choice--SKIN PERFECTING 2% BHA Liquid Salicylic Acid Exfoliant--Facial Exfoliant for... | | CHECK LAST PRICE |
| 4 | | Fearless Tape - Double Sided Tape for Fashion, Clothing and Body (50 Strip Pack) | All Day Strength... | 18,700 Reviews | CHECK LAST PRICE |
| 5 | | Tree of Life Anti-Aging Complete Regimen 3-Pack, Vitamin C Serum, Retinol Serum and Hyaluronic Acid... | | CHECK LAST PRICE |
Nguồn: https://www.fashion-dailynews.com
Danh mục: Oily